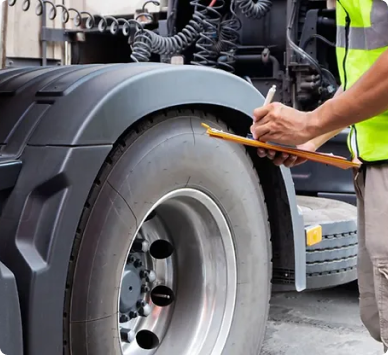 During this year's CVSA (Commercial Vehicle Safety Alliance) brake safety week, a total of 38,117 inspections were conducted across North America. Out of the 38,117 inspections, 13.3% of vehicles were put out of service for brake violations. This also means that about 87% percent of vehicles were in compliance with inspection guidelines.
This year's brake safety week primarily focused on brake hose/chafing violations. Across the board, 6,305 brake hose/ chaffing violations were documented. These violations were categorized into four different groups each of which varied in severity levels, two levels being out of service violations. Out of 392 CMV's that took a performance-based brake testers (PBBT), 29 vehicles failed leading to a 7% out of service rate.
During brake awareness weeks inspectors were especially looking out for, missing, non-functioning, loose, contaminated or cracked parts, including such as spider castings, return springs, brake drums or rotors, brake shoes, linings or pads and slack adjusters. Inspectors also kept an eye out for contaminated linings or pads, non-manufactured holes in spring brake housings, S-cam flip-over, and audible air leaks. They check for mismatched brake chambers on an axle, security of air reservoirs, condition of hoses and lines, air pressure in the system, the breakaway device, tractor protection system, pushrod travel and brake-system warning devices.
The CVSA's brake safety week is part of Operation Airbrake program in partnership with the U.S. Federal Motor Carrier Safety Administration. The CVSA hopes to bring safety and awareness to drivers through these inspections. One of the main efforts is to reduce the number of crashes caused by faulty brake systems. Through these enforcement efforts, drivers can become more aware of faulty components within their brake systems and enhance their regular maintenance